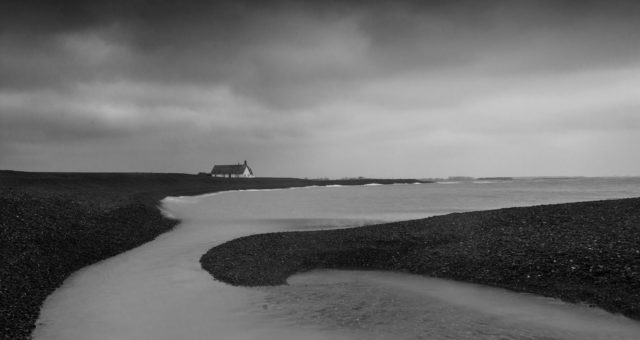 A lot of the Suffolk coast has been a playground for my photography in recent years. I have been all along the coast exploring and capturing the landscape and seascapes. Shingle Street has become one of the places that I will always go back to. I wrote a blog post a few years back about a trip to explore the small hamlet which you can find here.
On the small stretch of coast there were a few different opportunities to capture the bleak eeriness of this beach. Armed with gloves and a hat, and my flask of coffee we went to explore Shingle street again. As the sunrises later in the morning its a bit easier to get up and go, but still a challenge when you get on the beach at Shingle Street with the wind battering us as we went across to the shoreline.
The coastguard cottages that adorn the edge of the beach have been photographed many times and they are definitely one of the highlights of the area; the solitude and isolation lends itself well to an atmospheric photograph. My first port of call was to walk towards the coast and capture the waves crashing in on the beach, with the tide coming in the chance to shoot the waves on the shoreline. I have been looking at getting more long exposures of the waves and the clouds and it was a great moments to do so. Even though the sunrise wasn't that great, the trip wasn't a waste as the clouds gave great atmosphere to all of the shots.
There were many opportunities for photograph, as I walked up and down the coast there were many compositions that took my eye here are some of the shots.
I have become slightly more daring with my shots. On past visits to shingle street, I have kept well back from the shores edge, but with one foot in the water and the other precariously balanced on the steep edge, I aimed to capture a really interesting shot of the large pool with the small cottage in the background. The path that the water had made was key to making this a successful shot, as the water was breaking through the shingle and into the pool. Here is the shot that I've captured:
I really enjoyed getting out to Shingle Street and exploring the coast. Although it was cold it was well worth getting up early and exploring Suffolk again. I look forward to going out again soon.
If you would like to keep up to date with any of these trip, I have been using Instagram stories to capture the process with a few posts asa we explore the location. All of these photos are available as prints, if you would like to buy any then please do contact me and I can organise a printed copy of them.
---
Connect with me here:
© 2018 Matt Finch. All rights reserved.